The Drinks Are On Us!
The drinks are on us; sounds like a bad idea to me because it could end up costing you a fortune and even if money is no object it could get a bit messy with your guests not being able to resist having one too many.
Do you really need to pay for all their drinks?
No it isn't necessary but if it's something you want to do why not make a contribution by giving them a ticket to exchange at the bar. There are some cool cards you can buy and personalize with your names for an extra special touch. Here's one which is popular, cute but simple and effective and it can be either handed out or left on the tables along with favors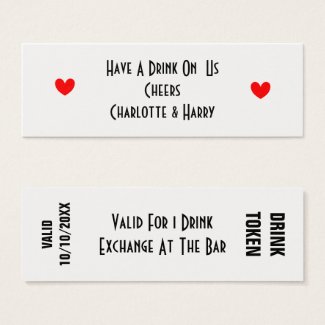 Free Drinks Token Personalized
by
Flissitations
Don't Buy Me A Wedding Gift



Many couples these days have been living together for some time before getting married and already have pots, pans, towels, ornaments photo frames and the like. With the expense of the wedding they would probably appreciate money to spend on the honeymoon; but how can you say it without sounding ungrateful or greedy. Once again you can get personalized cards just for that purpose.
Wedding Gift Request Honeymoon Money Personalized Enclosure Card
by
Flissitations
However if you're not going on honeymoon but would prefer money or vouchers as opposed to a wedding gift you could use something like this
Wedding Gift Request Money Personalized Discount Card
by
Flissitations
Perhaps your a couple who would love lots of wedding gifts but you feel a bit cheeky sending out a wedding gift list telling people what you want. Why not set up an online wedding page where you can get guests to message you with their RSVP. That way you can put a list of wedding gifts you would prefer there which they will see when replying, giving them a subtle hint.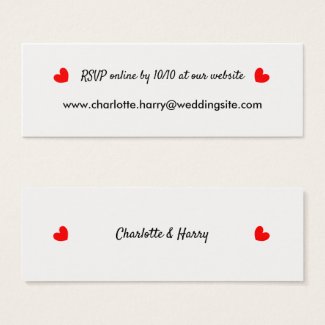 RSVP Wedding Website Personalized
by
Flissitations

Get Up And Dance!
Having a disc DJ in the evening on your wedding day; make sure people get up and dance it can make the night much more enjoyable for everyone. One step to getting people up dancing is playing music they enjoy and feel comfortable dancing to. Why not ask them to give you their favorite dance tunes on your web site before the event so that you can pass them on to the DJ. Alternatively get some song request cards to leave on the table on the evening