Starting from just 0.24 each when ordering 100 wedding invitations, these low cost, cheap wedding invite options offer great value for couples looking for inexpensive cheap wedding invitations. Available in 2 different paper types and three sizes. You can also trnsfer the design to 'flat card' invitations which offer even more options in size and paper type. The design featured here is Eucalyptus Greenery leaves on a variety of backgrounds including rustic, blush pink, dusty blue, burgundy and more.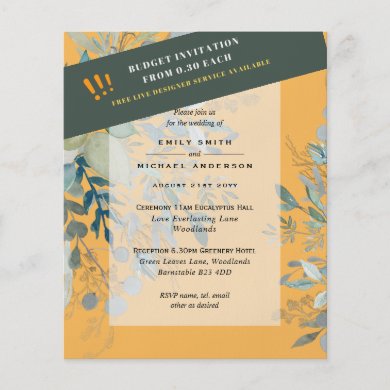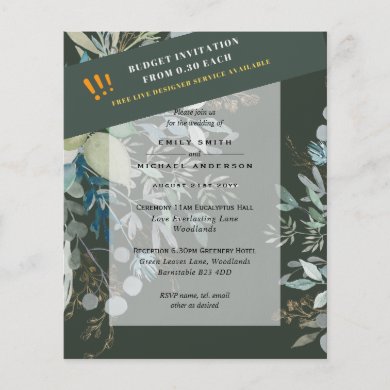 If you're looking for inexpensive wedding invitations, that are cheap but not lacking in quality, then the low budget wedding network have you covered. As well as the wonderful cheap wedding invtations featured here we have hundreds more designs and options via our
l
ow budget wedding invtiation store on Zazzle.
We also have a
price comparison table
so you can comapre budget wedding invitations from other leading brands and suppliers such as Vistaprint, Minted and more.. Other cheap option for wedding invitations include sending them digitally via email, social networks or text. No paper involved! Making wedding invitations yourself can be a budget option but often the materials cost more than the printed templates, especially with prices like ours.
If you're on a budget but still want high-quality invitations, the low budget wedding network has what you need. With hundreds of designs and options to choose from, our
l

ow-cost wedding invitations store on Zazzle

has something for everyone. There's also a table where you can compare the prices
of various leading brands and suppliers, such as Vistaprint, Minted and others, to find the best deal. Sending wedding invitations digitally, via email, social media, or text is another low-cost option. There's no need to use any paper here! Making your own wedding invitations can be a cost-effective option, but the materials often cost more than the printed templates, especially at our prices.
Fun and informative blog supporting you on your wedding planning journey. Part of the Low Budget Wedding Planning Network
®
, we have got you covered! Join our
FB Group
and be part of our online community.
Wedding Planning Guides