As a wedding suite designer, I love getting requests from clients that really want that something special that is unique to them and the scenario that they will be having on their big day. It's a massive challenge to get it just right for them and it's so very gratifying when they express satisfaction at what you deliver!
That's why I was thrilled when I was approached to do something similar to this existing invite in my store. It was originally designed for a wine-tasting bridal shower but they wanted it for a wine-themed wedding that they are having at a location with peacocks. I didn't know there was such a thing!
This is now like a before and after that I'm about to demonstrate. It's fun to see how a theme can escalate and this is how we as designers learn what people are looking for. Optimum personalizations for wedding couples if you like. So they liked the idea but the color scheme was not suitable to their event specifics. Burgundy, navy blue and blush pink were the order of the day.
Challenge accepted! This was my very first effort and they were suitably blown away but not quite to the extent that were going to settle. This is what I love about this game. It isn't over until it's perfectly suitable to their requirements. So very apologetically and "sorry to be a pain" they suggest edits. No...it's my job. Feel free to tell me it's not acceptable.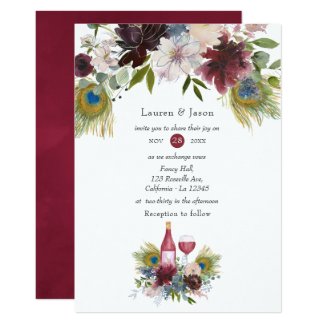 Burgundy and Navy Peacock Wine Themed Wedding Invitation
by
partypeeps
They loved the addition of more florals at the top but they weren't altogether happy with the wording as they wanted their full names and a bit more emphasis on the fact that it was indeed a wedding. They also required a text field on the back for further information. The burgundy reverse was also too much for them and they suggested navy. This particular color scheme is very trendy at the moment and trust me when I say that people pick up on trends.


It was huge learning curve for me and we are both very happy how it turned out. I'll be doing a lot more wine-themed wedding suites in the future. I love this job!