Your Last Ride! Disco Cowgirl Bachelorette Party Invitations and Decor! Trending 2022
Fun Disco Cowgirl Bachelorette Last Dance Invitations featuring disco balls, roller skates, cacti, lots of pink girly glitter and glam and other fun features for this themed party.
✨🎶 Disco parties from the 1970s are massively popular now but more so are cowgirl disco bachelorette parties! Get in the mood and create a disco vibe with bright lights, a disco ball , disco music 🎧🎶💿🎹🎤cardboard cutouts of popstars from the 70's 🕺💃 , retro posters, silver and gold glitter cowgirl hats, add some bling (xmas tree tinsel) to your cowgirl boots, a matching glitter, shiny foil belt for your jeans and more! Check out these customizable cowgirl disco bachelorette invitations, t-shirts and partware! Add your own style and flare to make them unique.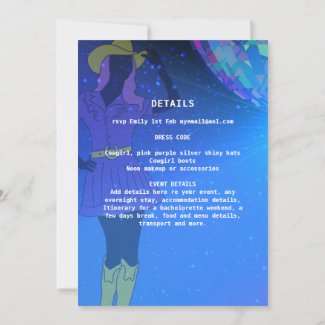 Reverse side of
COWGIRL DISCO BACHELORETTE or Birthday Invite
Lots of space for adding extra details about your party or weekend away.
Girly girl purple glitter disco ball and a very retro cow-pattern cowgirl hat team up to create the perfect disco cowgirl party decor, gifts and accessories. These items are part of the Purple Glitter and Cow Pattern Collection where you'll find lots of bachelorette party stationery and party supplies.
Mix and match party invitations, party supplies, favors and accessories to create the perfect event. This disco cowgirl bachelorette party collection has a fun black, white and pink color scheme with personalized supplies to celebrate brides. Choose from fun star, cow hide print and disco ball graphics designs to throw her party she's going to love.