Sunflowers are a hot favorite for Summer 2022 Weddings
Consider using sunflowers as your wedding's floral centerpieces if you want a light, airy, and cozy feel. The sunflower is a symbol of joy, abundance, and harmony. Your marriage is the most important thing in your life. For a bright yellow sunflower-themed wedding, the optimum time to purchase genuine sunflowers is from late summer to early fall. This style of wedding can be held at any time of year, however, if you don't mind utilizing silk sunflowers as décor.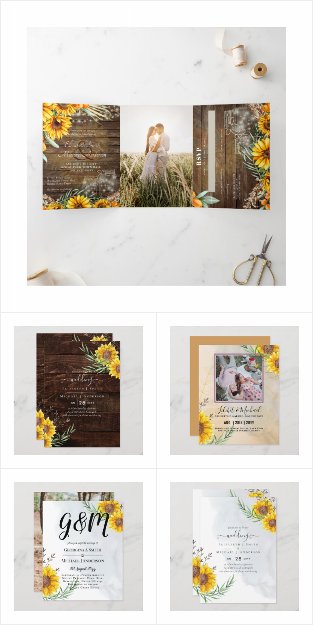 New for 2022!
Rustic Sunflowers and Pampas Grass Invitations and Matching Wedding Stationery from 0.30!
Pampas Grasses have recently become a popular addition to rustic barm, countryside, and garden wedding bouquets. Here are just a few of the many Sunflower and Pampas Grass themed wedding invitations, reception dinnerware, decorations, stationery, and accessories that we have to offer.
View the complete collection HERE.
Candles, tablecloths and napkins emblazoned with sunflowers, as well as other brightly colored flowers like pampas grasses, are among the most popular sunflower wedding decorations. As long as you're decorating, there's no need to stop! Instead of boutonnières for the husband and bridesmaids, how about sunflower hair pins? What about Sunflowers on the dresses? Because you have so many possibilities, it's important that you think creatively. Light colors like yellow, orange, and crème terracotta should be used for the decorations and outfits. Warm, cheerful, and laid-back colors that symbolize the summer season. Add a dash of red and brown to loosen things up a bit.
Bridal Party Flowers
Bridesmaids often carry a solitary sunflower. Sunflowers are a traditional wedding flower, however Pampas Grasses may also be included in the bride's bouquet. Your neighborhood florist can provide further inspiration. They can help you choose the ideal flowers for your wedding based on the season. Ask them about silk flowers for your bouquet's complimenting blooms and embellishment if you're on a restricted budget.
Favors for the Wedding
Wedding favors can also be made from your decorations. Extra candles, similar as those used for your table centerpieces, make lovely favors. It's also possible to gift your visitors with actual sunflowers. A personalized bag of sunflower seeds with your names and wedding date printed on the bag is a great wedding favor. Next spring, your visitors can plant the seeds and recall your lovely special day every time they see a grown sunflower in their gardens.