Everything you need to know to plan the perfect Tropical Themed Wedding
Are you have a tropical wedding theme where you live or are you planning to marry on a tropical island? Each option will have different considerations both of which are covered in this comprehensive tropical wedding planning guide. Buckle up you're in for a ride!
Local Tropical Wedding Theme - more time to prepare and do yourself.
Destination tropical weddings require planning that is similar to that of traditional weddings, with the exception of a few things that are different and potentially more difficult to coordinate. It is possible that you will have to rely on the resort or a wedding planner to help you sort out all of the details for your destination wedding, which presents a unique challenge. Because you may not be able to arrive on site until a day or two before your wedding, you'll need a strong team to assist you in order to plan from a distance. Additional tropical wedding planning considerations:
Visit your wedding site the day before the wedding. This will allow you to ensure that it is easily accessible, to direct guests, and to locate parking.
If you're having a sunset wedding, book your officiant and photographer in advance. Sunset weddings are the most popular time of day, and finding someone at the last minute may be difficult.
Weddings on the beach are extremely popular. If you're shooting at the beach, inform your photographer. They might have some ideas.
Summer months can be extremely hot and sticky. Bear this in mind as you plan your gown, hair, makeup, and cake. (Frosting may melt.)
Decoration Ideas
Lauhala mats, centerpieces made of leaves, ferns, and tropical flowers, pineapples, palm fronds, sand, tropical bird figurines, coconuts, torches, and fabrics for draping in tropical colors such as red, green, blue, purple, orange, and yellow will suit a tropical wedding décor theme. Other ideas include bringing in real or artificial palm trees in a pot, old surf boards, bamboo screens, Hawaiian tikis (statues) and torches. Decorate by weaving palm fronds through the backs of chairs to create a tropical feel. Pampas grass is a trending tropical wedding decoration. Fill glass fish bowls with water, shells, colored glass pebbles and floating candles. Garlands made from tropical flowers and leaves can be used a table runner.
Surf Shack Style Bar
Surf boards to prop up around the place, against thebar (cardboard cutouts)
Inflatable pink flamingos
Inflatable palm trees
Random pineapple, tropical palm tree, flamingo decor
Hibiscus flowers (artificial will do)
Raffia table skirting
Seashells
Coconuts
Flowers
Select tropical flowers that are native to the area where your wedding will be held. Flora such as orchids and birds of paradise can be found in many Caribbean islands, and they make for beautiful wedding bouquets and centerpieces. A combination of fern, ivy, lemon leaf, pampas grass, or lily grass creates an absolutely lovely effect. The following are some popular choices for tropical bouquets.
Anthurium
These stunning Hawaiian flowers are ideal for use in larger flower arrangements. They are pink, red, white, or orange in color and may have green striations.
Strelitza, or Bird of Paradise
These are simple to locate and simple to use. They are a tropical flower that is well-known and recognized by the majority of people. They look stunning when arranged in a large arrangement.
Orchid
For generations, the orchid has been the quintessential wedding flower. They are more delicate and, as a result, can be quite costly. You can order them directly from the grower and save significantly on the price. Additionally, they are quite fragrant.
Ginger
An extremely attractive flower from an architectural standpoint. They can add vital height to a large arrangement.
Plumeria or Frangipani
If you want a bouquet that is both beautiful and fragrant, choose the plumeria. They are available in a variety of colors and blend well with other flowers.
Hibiscus
Although this is an exquisite flower, it is not widely used. They are only temporary. If you are having a destination wedding and have the opportunity to obtain these freshly picked, you will not be disappointed.
When purchased through a florist, many tropical flowers are quite expensive. If you want them but are on a budget, consider ordering them directly from a grower and creating your own tropical bouquets. It's simple to do and will save you a fortune.
Food
Tropical fruit platter centerpiece - add squewers
Roast pig
BBQ
Fish
Mashed fruits
Bananas, papayas, watermelon, mango and pineapple.
Macadamia nuts
Pineapple upside down cakes
Barbecued banana - chocolate coated YUM!
Cocktails alcoholic and non-alcoholicHawaiian Heartbreaker and the Aloha


How To Make Tropical Cocktails
Clothing
A pair of white linen pants and a white shirt will do nicely for the groom. Men can also wear sarongs. For the bride, a simple option would be a white sundress and a white sarong in various lengths. You can have halter, strapless, ombre or tye-dyed dresses, these can be in ocean colors , they are non-traditional but perfect for that ocean, tropical beach setting. The wedding party can also be dressed in white, or they can choose tropical colors to complement the wedding theme and complement the wedding theme.
Take the temperature into account when selecting your gown. Short gowns are recommended for this event because walking in the sand may cause damage to the fabric.
Bridal Shower Makeup Ideas
Eyeshadows in shades of blue, turquoise gold
Thick eyeliner, lid liner, mascara
Bright red, orange cerise pink lipstick
Party Face Painting
Hypoallergenic paints
Paint Tropical fruits, palm trees, leaves
Sea creatures such as crabs, dolphin, seahorse, turtles, Geckos, Starfish


Invitations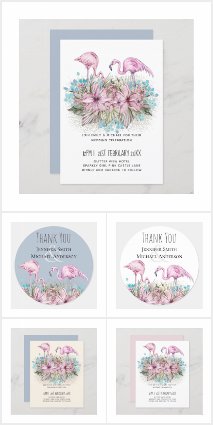 Wedding invitations are the first impression your guests will have of your wedding, so they are a critical detail. Tropical wedding invitations are an excellent way to kick off your wedding preparations by communicating this theme to your invited guests. These are bright, cheerful, and inviting, and you can personalize them. You can create them yourself, hire a designer, or visit an online store to have them created specifically for you.
Tropical themes can incorporate floral elements, and floral designs are a popular choice for invitations. There are thousands of flower varieties available, and a popular tropical flower is the hibiscus. Using sea-blue and green with beige, or turquoise and brown, or even hot pink for this flower, can still set the tone for an elegant yet light-hearted occasion.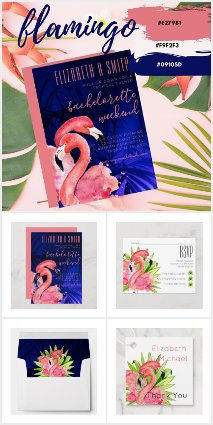 Beach and tropical wedding themes are extremely popular right now and have always been popular for summer weddings. This conjures up images of Hawaii, beach sunsets, palm trees, and coconut groves, strolling hand-in-hand along the beach, paired footprints in the sand, and names written inside hearts in the sand next to the shore.
Invitations can be embellished with beach sand sprinkled on glued paper, small shells, starfish, and dolphins, as well as ribbon, thread, or twine. All of the supplies necessary to create these invitations can be found at your local scrapbooking store. If you lack the time or inclination to create your own tropical themed invitations, a variety of stores can create them for you at a reasonable price.
If you're planning a destination wedding, destination invitations are ideal. They will highlight your chosen destination and entice your friends and family to join you in celebrating.
Choose a tropical theme for your wedding invitations that incorporates some of the beauty and charm of your destination and ensures that every detail of your wedding is memorable.
Favors
As a final touch to your wedding, you may want to consider purchasing tropical wedding favors to hand out to your guests and wedding party. These favors could include engraved or personalized items, as well as simple novelty items with a tropical theme. You can also create personalized tropical themed place settings by writing your favorite poem or saying on tropical themed bookmarks.
Tropical Blooms
Fill some cube-shaped favor boxes with tropical-flavored candies and then top them with a large silk, paper, or real flower head, such as a lily or orchid. If you're using fresh flowers, add them at the last minute to prevent them from wilting and store them somewhere cool until you're ready to distribute them.
Stylish Card Holders
Browse various favor stores for place card holders and look for ones decorated with pineapples, birds, or flowers. Along with presenting your name cards, guests can take them home and use them as a photo holder.
Fans
Provide your guests with an attractive fan to help them stay cool in the tropical heat! There are numerous designs available, including personalized paddle fans, intricately carved wooden fans, and fabric fans. Choose ones that coordinate with your wedding colors or opt for a natural shade and accent with a bright ribbon.
Pick up some palm tree-shaped favor boxes and fill them with tropical candies or coconut ice!
Cute Cookies
Serve your guests some delectable cookies decorated with tropical summer themes. Flip flops, ice pops, ice creams, bikinis, sun hats, and palm trees are all good choices. Wedding favors that are edible are always popular, and cookies are the ideal way to personalize your favors.
Cocktails
Provide your guests with a cocktail mix, such as Pina Colada, so they can relive your wedding day at home, even more so if you serve it as your signature drink during cocktail hour. Additionally, you could include a cute cocktail shaker, glass, or other cocktail mixing accessories.
Shades
You are not required to purchase expensive ones; after all, they are for entertainment purposes only. Check to see if you can obtain some with vibrantly colored arms and have them personalized. They should make excellent photographic subjects!

Wedding Planning Guides