Winter Weddings Can Warm the Coldest Nights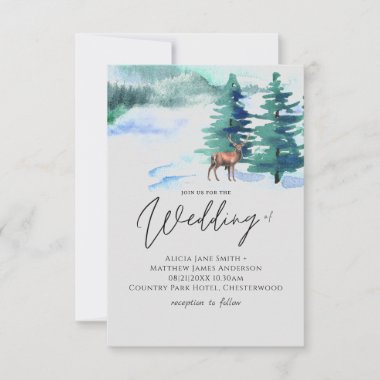 Weddings have traditionally been held in the spring or summer, when the bride's pure white gown can be warmed by the warmth of the sun. However, when it comes to the setting, a winter wedding can be just as beautiful if not more beautiful with the lovely white snow and the dazzling white chilly sky, roaring fires, festive seasonal decorations and for nighttime, stars, lights and pig roasts.
For a winter wedding, you should have a theme match, and the invitations should reflect that theme. Though wedding invitations are typically formal, black and white or flowery, many invites now include color on the envelope and the invitation itself. Make sure your wedding color scheme coordinates with the colors you choose for your winter wedding invitations.
The invitation should hint at what awaits guests to help them picture the overall mood of the event.
Winter wedding invitations with mountain range graphics can be used if you are getting married in the snowy mountains. We have wedding invitations with mist settling over the trees, a hint of snow in the air, and lots of lovely green trees if you are having a forest setting with pine trees. A cozy castle or a warm barn for a winter wedding can be reflected in kraft paper invitations (barn wedding) or medieval vintage style invitations (castle wedding).
If you're having a
Christmas or other holiday-themed wedding
, your winter wedding invitation can include holiday greetings as well as images of the festive season's decor. For a unique twist on your winter wedding invitation, frame a couple photo with a winter wreath. Winter flowers and animals that live in snowy climates are also popular winter wedding invitation themes.
A starry night wedding invitation theme can be used to introduce a winter wedding with a nighttime theme. Invitations in deep blue with sparkling stars. Shooting stars are popular for winter wedding invitations.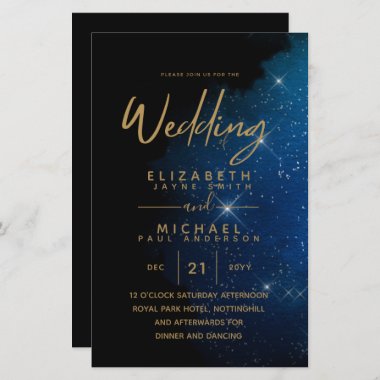 Keep the formality level of the invitations consistent with the event. If you're planning a formal evening wedding, the invitations you choose should be in a formal typeface and style.
Make sure to send out your winter wedding invitations at least two months in advance, if not sooner. If you intend to travel for the holidays, you must notify your friends and family ahead of time.
Stags, Buffalo Plaid, Lumberjack patterns, rustic wood, tree-filled trucks, metallic gold, silver and red and of course skiing are other great winter wedding invitation themes. Scandinavian and Nordic folk art, hygge themes are also popular for winter wedding invitations. We have it all here! Have a look a the selection of winter wedding invitations featured here with prices starting from as low as 0.40 (budget wedding invitation range) you will not be disappointed. I have hand-selected the best designs with the latest trending wedding invitations themes that are perfect for your one of a kind winter wedding!
Wedding Planning Guides