Have you thought about investing in a wedding planner journal. The Knot wedding planner and organizer is especially popular among new brides to be. Another popular one which is super cheap can be seen below for under $10. This is one of
Amazon's best wedding planning sellers
and myself and a few of our
group members
already have this one. It definitely covers all bases.
Or if you're super creative and want to make your own wedding planner, you can use one of the
templates available by Zazzle
and add your own flavor!
If you want a free option you can start making savings right now and print off a FREE wedding planner checklist such as that provided by Martha Stewart. She has a very comprehensive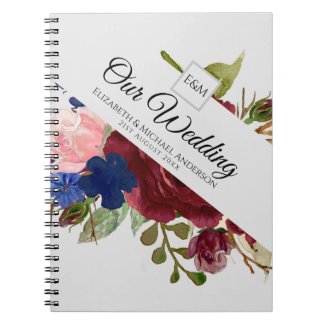 wedding planning checklist that is available as a
PDF doc.
It includes a wedding timeline, budget planner, guest checklist, photography planner, music planner, flower planner and reception seating planner.
If you have a spreadsheet program, you can record wedding budget costs and schedules via that and update it easily as things change - they will!
All the wedding album/planners below can be personalized and you make it your own by adding whatever you want to keep you organized.
Wedding Planning Guides