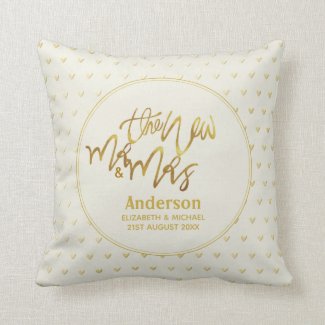 Buying a wedding gift isn't as simple as it sounds, page down to see if your query about buying wedding gifts has an answer here. If it doesn't drop us a line in comments and we'll get back to you!
Newlywed Gifts
Q. I've been invited to a wedding but I don't plan on attending. The invitation included gift registry details. Do I need to buy a gift even if I'm not attending the wedding?
A.
It depends on your relationship to the bride and groom. The gift isn't a thank you for attending the wedding, so not attending should not affect your decision to gift the newlyweds or not. Close family and friends who cannot attend a wedding would still normally send a gift to commemorate the marriage. For those who are not particularly close to the newlyweds, at the very least you should send a card.
If posting the gift send it via the home address of the bride or groom.
Monogrammed Towel Sets - Unique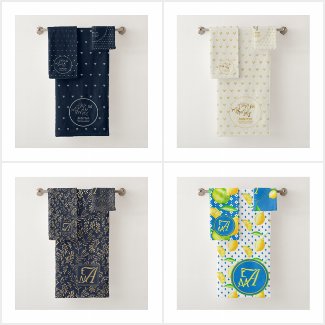 Q. Do I have to buy a wedding gift from the gift registry list that was sent with the invitation.
A.
The gift registry list should act as a guide only and should be viewed as such by the marrying couple. So NO, you are not obligated to buy a gift from the gift list / registry.
Buying gifts that are registered with a particular store avoids the couple receiving duplicates of the items they've chosen, but you can buy from anywhere.
You can also choose to gift something unique, personal or gift cash or a gift card. All gifts are welcomed.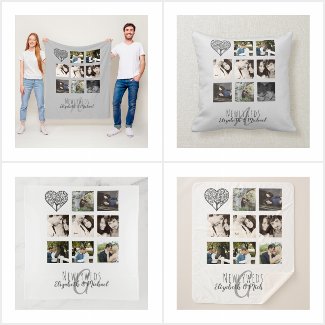 Wedding Photo Collage Gifts
Q. If I'm helping the bride and groom with the wedding, providing services, decorations or funds do I still need to buy them a gift?
A.
Whether or not you buy them a gift is up to you. If you decide not to buy them a wedding gift, I'd let them know that the service or funds you're providing IS the wedding gift to ensure they have no further expectations.
You can also gift them something to help with the wedding which will later act as a keepsake gift such as personalized or monogrammed:
Mr and Mrs Wedding Gifts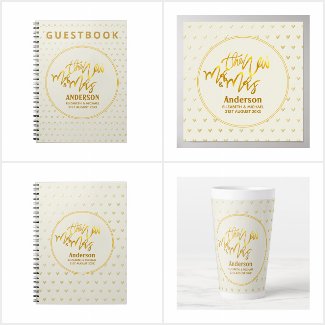 Guest Book
Cake Stand
Engraved Cake Knife
Wedding Signs
Stationery
Ring Bearer Pillow
Wedding Flutes / Glasses
Napkins
All of these gift items would make excellent memorable keepsake gifts as well as being useful on the day of the wedding and helping the bride and groom to keep their own costs down.
NOTE:
It is important that any gifts bought to help with the wedding itself are purchased with the knowledge of the couple to ensure the items match their needs.
Q. Is it ok to give cash
A.
It is, if doing so hand the envelope to the bride or groom personally rather than leaving it on an unsupervised gift table. Unless they have a secure 'postbox' for their wedding cards. Some couples ask for cash in place of a gift. It can be used for their honeymoon or other costs associated with the wedding.
Q. Is it ok to buy a gift card
A.
If buying a gift card select a global online brand such as Amazon or a store that you know the couple favors.
Q. are gift baskets ok as a wedding gift
A.
If buying a gift basket, avoid food and alcohol of you don't know what the bride and grooms food preferences are.
Q. Should I bring my gift to the wedding site?
A.
You would normally present the gift via the couples 'gift table' which is generally part of the day or evening reception. You don't take it into the marriage ceremony or gift it at that time.
Q. How much should I spend on a wedding gift
(these are my own suggestions and are not a strict guide, you can of course spend whatever amount you can afford or think is suitable).
Close Family Member £/$ 80+
Work Colleague £/$ 25+
Close Friend £/$ 50+
Neighbor £/$ 25+