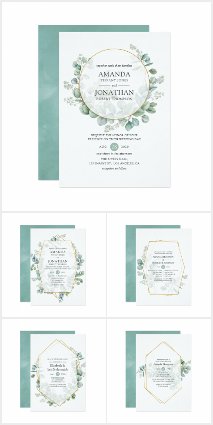 Eucalyptus and greenery in general has become a major trend for weddings. I think it probably has something to do with the idea of wild woodland and everything that is mysterious really. The enchanted forest has a lure for the wild at heart and eucalyptus leaves are a subtle take on the theme leaving the rest up to your imagination.
As a wedding invitation designer, I can vouch for this trend as I have sold quite a lot of wedding stationery based on this theme. If you are at a loss for a theme for your big day then you may want to consider this, particularly if you were contemplating an outdoor country garden and/or rustic backyard or even bohemian wedding. Different types of eucalyptus leaves are available on amazon, ebay and other places at very reasonable prices.
Garden roses, anemones, ranunculus, peonies, and proteas are very conducive to the mix as are pastel blush florals and soft greens. Location wise, a botanical garden is of course ideal maybe with trees, creeks, wooden benches and maybe even fountains. I would imagine all of this is very affordable. The rest is obviously up to your imaginations!
Of course all of this is really conducive to those looking to have a magical fairytale wedding such as cinderella but I digress! Let's not forget the eucalyptus lol. No koala bears were harmed in the writing of this post.