Here to help you is a handy
wedding timeline guide
which you can use to kick start your wedding planning process.
Many couples set their wedding date on average two-years from their date of engagement. This allows a full year to research themes, color schemes, venues, consider your budget, location and all the niceties of wedding planning. The real work though starts a year ahead of the wedding date as those ideas are put into motion. With this in mind here is your wedding timeline with a two-year window for dreaming and planning.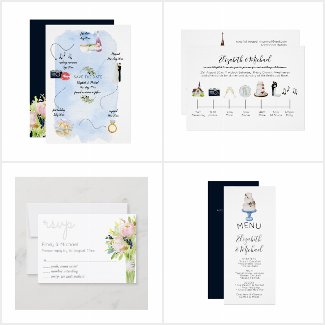 2yrs - Plan an Engagement and Set The Date
If you're announcing your engagement formally, having an engagement party, sending out notices, then it is a good idea to at that same time be able to give guests an idea of when the wedding will take place.
An exact date may not be possible at this stage but some idea of the year and what time of year would be very useful.
This enables your guests to make their own plans and savings to cover the cost of wedding clothes, transport, possible childminding and gifts.
Handy links to engagement related stationery which include template wording ideas.
It is likely you will invite the same people to your engagement as you intend to invite for your wedding or at the very least will want to advise of it. This is not including their plus ones, children etc. This will provide a guide as to how many guests you may need to cater for, for your wedding.
Rustic Engagement Announcement Party PHOTO Invites
And don't forget the engagement ring!
You may already have your ring if your fiance proposed with it, in which case you may need to have it resized. If you haven't yet bought an engagement ring, go shopping together or check out these beauties online. Great reviews!
2yrs - Decide on the number of guests and budget
Deciding on the number of wedding guests will help determine the
wedding budget,
cost of the wedding or vice versa. If you set the budget before hand this in turn will dictate how many guests you are able to have for the ceremony and the reception.
Your wedding budget and guest list combined will determine, large or small wedding, formal, informal wedding and lead you to selecting appropriate venues and so on.
2yrs - Money Matters
Who is paying for the wedding? If you're sharing costs across families, gather all involved to discuss how this will proceed.
Things to consider:
Will all the wedding money be given in advance and put in a special wedding savings account/pot?
Alternatively will individuals settle bills as they arise?
Will different persons have different costs they are responsible for?
Are you required to save ... can you save enough to settle the bills within the given timeframe / pay deposits?
2yrs - Book the Wedding Ceremony & Reception Venue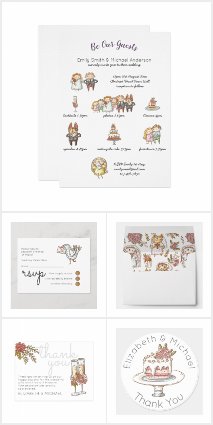 When the wedding date is set, the wedding size decided, the budget agreed you can take that information and start looking at wedding ceremony and reception venues.
Things to consider:
Distance from where you live
Distance and available transport between ceremony and reception site
Parking /disabled access /child friendly
Venue guests capacity
Cost
Additional services each provide/include
Whimsical Wedding Timeline Collection
by LeahG
2yrs - Make the wedding guest list
Choose your bridal party and groomsmen and invite them formally to participate. You can ask them verbally or arrange to
ask them with a gift
, card or other creative idea. Maid of honor, flower girls, best man and bridesmaids are sometimes given small personalized gifts asking them to fulfil that role.
Once you've decided on your bridal party and groomsmen, sit down together as a couple and
make a wedding guest list
. Couples have different 'rules' re this but generally they split it down the middle inviting an even number of guests for each side.
In some cases the bride or the groom may have a smaller friend or family guest list in which case you can agree between you how 'balanced' the list is and if that is even important. If there is a big discrepancy between bride and groom guest numbers avoid the different seating arrangements for the ceremony as it will be less obvious.
When you have your wedding guest list you can work out the cost per head for food, drinks, gifts and more.
1 year before the wedding
Order and send out your wedding Save-the-Date cards, magnets to all those on your guest list. Save the date magnets are a great idea for save the dates because your guests can attach them to the fridge ensuring a daily reminder to 'save the date'. Another great idea is save the date ink stamps so you can make your own rustic save the date cards.
Create a gift list and register with an online wedding gift registry (Amazon or other) or department store. These days it might be preferable to have an online wedding gift registry as not all your guests can make it to a specified High Street store. It's important to consider convenient access when compiling gift lists.
Arrange your wedding ceremony and meet the officiant / officials organising it. Confirm the details, rehearsal and any other necessary details.
Interview, meet, book with service providers:
Photographer
Videographer
Florist
Caterer
Dressmaker/Bridal wear (wedding dress, shoes, headwear, underwear, jewellery).
Transport / cars
Overnight hotels
Entertainment / DJ / Band / Singer / Dancers
Cake Maker / Baker
When booking services, ensure you read the contract details carefully.
Wedding insurance is a good idea in case of last minute changes, cancellations.
Discuss, book honeymoon, arrange time off work
Decide on wedding colors, theme
If you want to lose weight, tone up, get in shape for the wedding, start early so you can achieve the result you want in a natural and healthy way with some practical lifestyle changes.
6 months before the wedding
Focus on the details
Bridal party clothing / shoes
Groom suit / clothing
Bestman, Groomsmen suits
Makeup artist / hair stylist / manicurist
Order / send out wedding invitations and stationery - couples have different ideas on the best time to send out invitations. Important considerations include allowing time to have your invites designed and made/printed a process which in itself with postage and proof checking can take a month or more. Guest will require enough notice to ensure they have no other commitments, can arrange childcare, time off work and return the RSVP in good time for you to confirm details with your caterer and venue.
Research and order table decorations and other ceremony/venue decor
If your having a DIY wedding, start crafting!
4 months before the wedding
Have a wedding dress fitting and arrange for any adjustments
Chase your wedding guest rsvp's
Update out of town guests on local hotel arrangements /travel
Buy smaller details for your wedding ceremony and reception, such as guest books, ring bearer pillow etc.
Source and order wedding favors or craft your own.
Check the details of pre-booked wedding vendors to ensure all is still ok for the day! You may have additional amounts to pay.
Ensure your passports are up to date re that honeymoon!
Do you need vaccinations for overseas travel?
3 months before the wedding
Final reminder for guests re wedding rsvps as you will need to confirm shortly with your venue and caterer final numbers.
Are you having a rehearsal dinner? If so send out invitations and arrange a date.
Arrange your wedding transport and that of your bridal party, groomsmen etc.
Ensure all the details re honeymoon, passports, vaccinations, spending money, travel to airport/back are sorted/planned, confirmed.
2 months before the wedding
It won't hurt to confirm again with your vendors and ensure everything is on track for the date! Same with wedding guests and outstanding rsvp's. If friends and family are assisting with things like transport, photography, crafting flower arrangements etc. ensure they're still on board and able to do so.
You may need to meet (if getting married in a Church) with your Priest or other, to confirm the details.
Order , make, buy thank you gifts for your bridal party, groomsmen and any others you wish to thank for their attendance.
You may want to create a small memorial for those loved ones who can't be with you at the wedding.
Start writing those wedding speeches and toasts! Do some research re this and add some funny and heart-warming anecdotes. Chase others responsible for speeches to make sure they're busy with theirs!
Finalise your wedding seating plan, order table cards, seating chart.
Conform your wedding reception details, numbers, tables, order of events with your wedding reception vendor, planner.
If you're changing your name/s after marriage make a list of those who require notifying and the legal requirements for formally changing your name on things like house deeds, bank details, passport etc. These things can take time and you often need original copies of documents not copies, so check the details carefully.
Write your wedding vows. You may want to create a keepsake journal of wedding vow drafts, this is a cute idea for bride and groom!
Ensure marriage license details sorted.
1 month before wedding
Have a final wedding, bridal dress fitting and arrange a date for collection.
Practice your hair and makeup.
Collect dresses, suits for bridal party and groomsmen (fittings).
Pay remainders for bookings as required.
Update your wedding gift list registry as desired.
Start making a note of gifts received early so you can send out thank you cards.
Confirm all details with bridal party, groomsmen, helpers so everyone knows what they're responsible for and ensure they're still available and willing to help.
Arrange and have your bachelor (stag) and bachelorette (hen) parties. Have them early to ensure there's no chance of hangovers spoiling your wedding day for you or your guests!
Have a bridal shower party.
1 week before wedding
Most of this you've done already but just incase, confirm one last time with vendors all details.
Collect your dress/suits and any extras.
You may be collecting your wedding cake yourself , arrange for this or check with cake maker their delivery arrangements one last time.
Ensure all is on track for your fresh flowers, delivery, arrangements.
Conform hotel reservations and all others. You may still need to advise of final guest numbers.
Ensure photographer/transport know where they're going, time of arrival.
Prepare for your honeymoon, pack bags, passports, legal documents.
You may need a wedding handbag for emergency items, sort out something discreet and co-ordinated.
If you are likely to require help going to the loo in that huge Princess wedding dress, recruit your maid of honor now!
Get plenty of rest and de stress before the big day, book a massage!
Have your nails, eyebrows done.


On the Day
Wake up early, shower and have a good breakfast so your tummy isn't rumbling throughout the ceremony!
Collect flowers, cake and anything that has to be done on the day
Have your hair, makeup done
Have photos taken of the getting ready process
Leave your dress until you're almost ready to leave to ensure you don't crease, spill anything on it.
Don't forget your bag with essential items before leaving the house
Co-ordinate with the grooms party to ensure who arrives where, when first.
And enjoy!!
This list is not exhaustive but it's a pretty good start. I hope you have a wonderful day and an even better long-lived marriage.