Planning your wedding and getting married should be a wonderful memorable experience.
Without great planning, your wedding can be stressful and you can quickly feel overwhelmed by the escalating costs, the family politics and the sheer volume of what you need to do. To ensure your wedding goes without a hitch and you remain sane throughout the process follow these simple wedding planning tips.
Enlist help
Recruit your most creative, organised, enthusiastic friend or family member to help you plan your wedding. This will immediately cut your stress and your workload down by at least half. That is, if you are able to fairly delegate and share the responsibilities. Use the following 'wedding planning things to do' list to help divide the responsibilities between you.
Book the church or wedding ceremony venue
Give yourself ample time to plan for the wedding and for guests to ensure they are free on the day. Anything from one year to two years is usual for an advance wedding venue booking.
Watercolor Wedding Timeline Collection
Apply for the licence
Depending on where in the world you are, the rules re marriage licences will vary. Ensure you are compliant and do whatever is required according to your states laws.
Set the wedding budget
The size of the budget will determine every other action action you take in planning your wedding, so spend time practically working out an accurate wedding budget based on what you can afford and what you believe is reasonable to spend on this one special day. Parents of bride and groom may offer financial support.
Do not take this for granted. If parents do announce they will cover the cost then they will presumably set the wedding budget for you. Ensure you respect the limit imposed. Once you have the budget you need to divide it up to cover the many costs associated with wedding planning and execution. Things to consider are detailed below:
Wedding Guest List
Things to consider:
Who is coming?
How many can you afford to cater for?
How many can the venue hold?
Should they attend the marriage ceremony, the cocktail hour and the wedding party reception or just the reception?
Are you allowing plus1's?
Are children allowed?
Whimsical Wedding Timeline Collection
Some people have only close friends and family for the wedding ceremony and include a larger guest list for the evening reception entertainment which may include work colleagues and casual friends.
Children are a consideration as some prefer not to have children at their wedding while others are more than happy to encourage a family wedding environment. If you are including children in your guest list remember to accommodate their needs when catering the reception and planning entertainment.
Most singles will assume they can bring a plus 1 so ensure you detail on your wedding stationery what the rules are re this.
Wedding Theme and colors
Most brides like to have a 'theme' for their wedding, even if only to establish that it will be a traditional white wedding theme. When considering a theme for your wedding consider what reflects the personality of you and the groom and what can easily be managed within the scope of the wedding budget.
Popular and trending wedding themes for 2019 and 2020 include:
If you are hiring a wedding planner, she or he may create a mood board with you.
Marriage Ceremony
Venue Knowing your wedding theme will help determine where you want to get married. Select somewhere that sets the tone for your themed wedding.
A small chapel or church for a traditional wedding for close family and friends or an outdoor garden ceremony for a more rustic, country themed wedding. Weather will be a factor as will guest numbers and budget.
Wedding Reception
When deciding where you would like to hold your wedding reception, evening party or cocktail hour consider how your guests might travel from the ceremony venue to the reception and how long they might be at a loose end in between.You may need to budget for transport for guests, allow for ample parking and prepare detailed directions.
For guests who have to travel some distance to attend your wedding, you may also need to arrange overnight accommodation or provide a list of local hotels. Once your budget, theme, venue and guest list have been determined you can enjoy choosing the details that will make your wedding unique to you. These include:
Wedding Stationery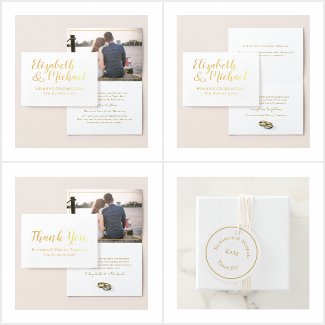 Wedding invitations – personalized
RSVP Cards
Save The Date Magnet or card
Belly Band
Details/Inserts (directions and other info)
Wedding Programs
Postage stamps
Envelopes
Wedding Signage
Seating Chart
Menu Table cards
Thank you cards
Real Gold Foil Wedding Collection
You can buy a wedding stationery suite that will include co-ordinated items for all the above or you could make your own! There are lots of online resources to help you to create your own wedding invitations. These include wedding invitation templates, printables and craft items.
If you are making handmade wedding invitations, allow yourself sufficient time to do so.
Other Wedding Costs
Marriage legalities
Ceremony Costs
Flowers including bridal bouquet, ceremony venue flowers and centre table arrangements
Decorations for ceremony and reception – ribbons, flowers, bunting, balloons Bridal Dress, underwear, reception outfit, shoes, jewelry, accessories
Groom suit, cuff links, accessories, shoes
Bridesmaid dresses, shoes, nails
Paige boy suits
Best man outfit
Hair dressing, makeup fees
Car Hire for bride, groom, family
Wedding cake
Boutonnieres
Wedding favors
Gifts for brides mum, bridesmaids, best man etc.
Hotel room hire
Catering including beverages
Photographer
Wedding Cars/transport
Videographer
DJ/Music/Entertainment for reception
Toasting Champagne
Honeymoon
The wedding planning list can be exhaustive so I have included the main items for you to consider. Do please add anything else in the comments section below to help our brides-to-be plan their perfect wedding.
(original article by LeahG 2014 updated for current trends)