Spring is such a romantic time to plan a wedding. The grass is turning green and the trees and flowers are budding and blooming and giving new life. There is excitement in the air and so much hope for the future with the rebirth of Nature.
These beautiful accents of the season can be introduced into the theme of your
spring marriage invitations
.
White Spring Daffodil Wedding Invitation
Rustic Bird Nest Eggs and Pussy Willows Wedding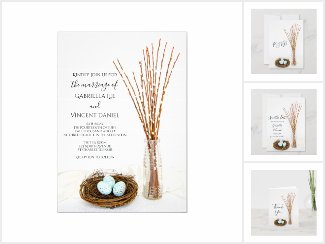 Nothing says "spring" as much as baby birds! Mommy and Daddy birds are often seen actively building nests and getting them ready to house their new eggs. The charming Rustic Bird Nest and Blue Eggs Wedding Stationery Collection really sets the tone for your outdoor March, April or May nuptials.
It features a quaint photograph of a wooden bird's nest with blue speckled eggs with a vintage glass milk bottle filled with pussy willow twigs. Choose from marriage invitations, save the dates, rsvp cards, thank you notes and photocards.
Yellow Daffodils on White Wedding Stationery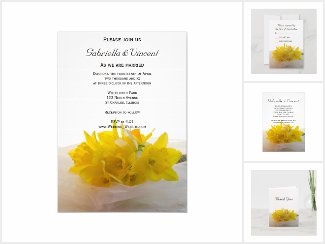 When it comes to spring wedding flowers, daffodils or narcissus top the list. Because they are so readily available during the spring months, they often are more affordable. They can even be picked from your own garden for your table centerpieces or accent vases.
Daffodils are also very versatile and can be dressed up or down to complement your relaxed and rustic or classy and elegant wedding atmosphere.
Another flowery type at the top of the springtime wedding list is tulips. Tulips are available in so many colors, they are sure to complement any wedding decor! Tulip flower blossoms can be either a whimsical or elegant addition to your wedding decor. Dress them up with silks and satins or create a casual rustic chic tone when paired with mason jars, barn wood or vintage lace.