Fairies and Knights
From the time I was a little girl, I dreamed about what my wedding would be like. I ran the gamut of Fairy Princesses, and Medieval Queens, to the Art Deco era, and the ultra-modern simplicity of Minimalism. As I have not yet had the pleasure of planning my own wedding, I am sure my tastes will chance once again.
If you're here reading this today, maybe you're looking for ideas, for inspiration. Maybe you haven't found your style yet. Maybe you're struggling a little bit. Don't stress. Take a deep breath. Go for a walk. Visit a location that brings you peace, calm and happiness.
Journal Your Ideas
As a designer and writer, I am able to find inspiration in the strangest of people, places and things. But one of my favorite things to do is find a little out of the way bookstore or specialty boutique, wander the stacks and shelves, browse the stationery and card section and take in the details. Sometimes a little journal will catch my eye and it's a purchase I never hesitate to make. There's something about a brand new journal with lined or dotted pages that calls to me to fill it with words, doodles, streams of thought, dreams…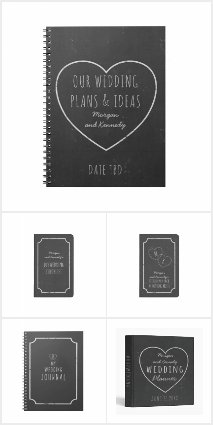 Wedding Journals, Planners and Wedding Binders
by SaraH Jayne
My beautiful bride, grab that journal. Start writing. What do you see when you close your eyes and imagine walking up the aisle towards the love of your life? Maybe it will be blurry at first, but the closer you get to your love, the clearer it becomes. Do you see a traditional church setting? Or maybe an outdoor summer soiree under the trees? A small gathering on a breezy beach with the smell of the ocean teasing your senses? Is it a little white chapel with delicate cherry blossoms adorning the chairs, or a cathedral with gardenias and roses?
Dare To Dream
Let your mind take flight. Let it soar and wander. What are the details of your dress? What colors do you see yourself surrounded with? Are there bold brights representing the riotous colors of florals in full bloom? Or the deeper hues of crisp autumn days? Is your favorite color peach and your groom's navy blue?
Or have your thoughts turned to a theme wedding? Maybe something sci-fi related like Dr. Who, or the fantasy of The Lord of the Rings? Is Downton Abby your vibe? Maybe Gothic romance is more your style?
Wherever those thoughts take you, whatever it is you decide, make sure it comes from the heart and represents you and your husband-to-be.
My Zazzle store : Beautiful Colors