With over 300 days of sunshine a year, Cyprus is a popular European destination wedding location and it has so much more to offer!
Fun, sun, beauty, sight-seeing, relaxation and an active nightlife is what you will get with a

Cyprus destination wedding

.

Imagine gliding in sandals across the golden sands while feeling the light sea breeze ruffle your hair. You catch the natural scent of the sea while hearing only the sound of gently crashing waves as a backdrop to your chosen wedding music. It's magical and relaxed and you have no need to rush off to pack for a honeymoon because you're already there!

With abundant sunshine, beautiful sandy beaches, historic and picturesque attractions, exotic and tasty food it is no wonder Cyprus is such a popular destination for weddings. Did I mention the nightlife? For livelier couples shopping and nightlife are a great added bonus.

Destination Cyprus Matching Set


FAST ACCESS

- to fast access everything you need for your Cyprus destination wedding visit my personally selected guides, clothing and other items curated for you via my Amazon influencer page HERE
Where to get married in Cyprus?
All destinations were not created equal so make a wish list of the 'type' of wedding/vacation you want. Do you want to see the sights, chill by a pool, enjoy ocean sports and games, enjoy the busy nightlife and shopping? Your wish list will help you and your travel agent decide which is the best location.
They may advise you to check out
Limassol
and
Aiya Napa
if you want a great nightlife and shopping. They are also known for their tourist attractions and are popular destinations for weddings.
Paphos
to the West of the Island of Cyprus retains its old rustic charm while being a growing centre for tourism and may suit those who want something more serene. Another popular destination for a Cyprus wedding is
Protaras
.
How to get married in Cyprus - legalities
Your travel agent will be able to assist you with finding out about the legal requirements for getting married in Cyprus and advise you about everything you need for your special day.
They can provide a full wedding package or just take care of flights and accommodation. They can also advise you on the many different venues and locations you can choose for your wedding which include, beaches, gardens, churches, town halls, hotels and more.
You can alternatively shop online via Amazon for one of their many guides to getting married in Cyprus. They have guides re the legalities and re the various locations and their distinct attractions. Page down to view my selection. You can see everything they have on
Cyprus weddings HERE.
Getting married in Cyprus is relatively easy but you will need to make sure you have copies (two for safety) of various legal documents pertaining to your identity, single/married/divorced/widowed status and so on. You can find a comprehensive list of requirements and fees relating to getting married in Cyprus via:
Getting-married-in-Cyprus-guide - Amazon
Destination Wedding Invitations and Stationery
Your guests will have a LOT of planning to do themselves if they're joining you for your Cyprus destination wedding, so get those
save the dates
out at least a year ahead of time, so they can save, book time off and make other arrangements as needed. They will be planning for a short holiday and so will need the sort of advance notice that holiday planning requires.
Destination Wedding Invitations -Cyprus
About two months before the wedding, send out the invitations with all the particulars. It may be the case your guest list is small and you will instead have a wedding reception in your home town upon your return. This will ensure all your friends and family are happy and enjoying celebrating your wedding. You can have a recording on hand screening your destination wedding ceremony during the event.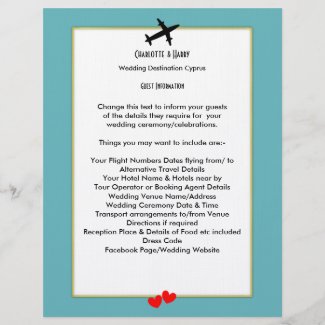 Wedding Destinations Abroad Guest Information
Planning Your Cyprus Wedding Decor/Catering/Entertainment